Japanese standard hot mineral forming technology in Shizen Home project
17/05/2022
The Shizen Home project owns the best complex of hot mineral springs of Japan, which is "tailored" according to intensive treatment procedures for each group of residents.
In recent years, people have increasingly focused on health care services. In particular, hot mineral baths are increasingly popular. Many studies show that immersion in hot mineral water increases blood flow, metabolism and the absorption of essential minerals. Hot springs are also good for treating arthritis, fibromyalgia, skin diseases such as psoriasis, eczema, high blood pressure.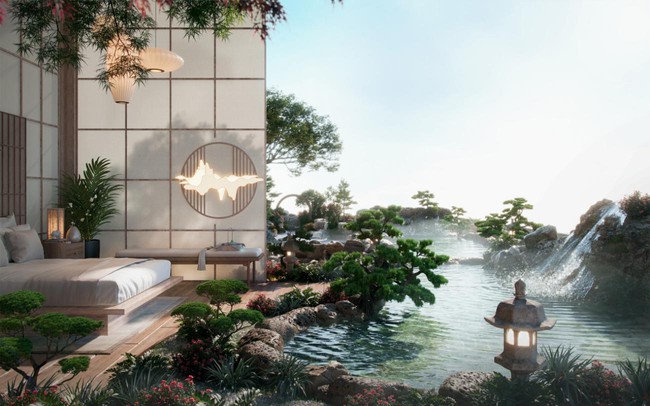 According to the North American Journal of American Sciences, the heat and the pressure of water reduce pain by preventing pain stimulants inside the body. The concentration of minerals and hot water also positively affect the joints and muscles, helping the body feel comfortable, relax and reduce insomnia.
With many good uses for health, hot minerals are becoming a new trend put into real estate projects by real estate investors and creating a strong attraction in the market. Typically, Swan Lake Residence – The Onsen (Ecopark) 's hot mineral apartment project has more than 1500 units in Hung Yen with up to 90% of apartments traded on the day of sale.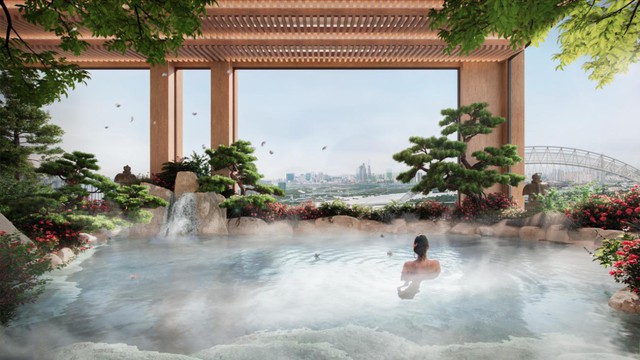 Gotec Land has embarked on Tribe Group – one of Japan's top 5 major hot mineral operators – to build the hot mineral chain to Japanese standards. 12 industry experts in Japan travelled all over the hot mineral regions of Japan to study and measure all the minerals as well as the concentration and temperature in accordance with the physical condition and health needs of the Vietnamese and applied to the project.
Tribe Group has used ionization technology, creating "tailored" hot minerals for each group of residents. The best hot mineral ions will be brought back from Japan, undergoing the process of adjusting the concentration and pH to create a good mineral such as hot mineral source in Japan. From there, create a hot mineral stream with stable and sustainable quality, eliminating harmful substances in natural hot minerals.
The Shizen Home project will have a hot mineral pool rich in sulfur and sulphides specializing in beauty needs. According to experts, soaking in sulfur-containing hot springs helps to increase skin youth and elasticity, reduce symptoms such as dermatitis, eczema, psoriasis… Moreover, sulfur-containing hot springs enhance metabolism, improve and prevent blemishes, treat dermatological diseases and restore skin lesions.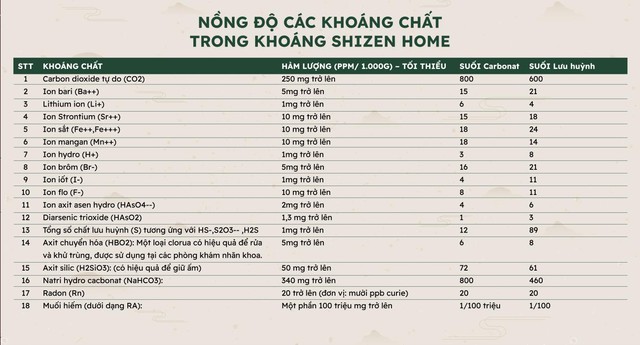 In addition, Shizen Home also invests in a heated mineral pool rich in Bicarbonate, which helps treat the hypertension, cardiovascular, and osteoarthritis commands that are common in the elderly. Bicarbonate helps open blood vessels, boosting blood pressure in the body; it is a therapy for hypertension, atherosclerosis, cardiovascular diseases, unstable nervous system or insomnia in the elderly. Combined with sodium and chloride, hot minerals also help reduce the symptoms of arthritis, cure rheumatic diseases, improve health.
To increase efficiency, Tribe Group also introduced negative ion technology into hot minerals. Negative ions are beneficial particles that boost vital energy so they are often called "air vitamins". Negative ions have many effects on human health such as cleaning blood, supporting the nervous system, strengthening the respiratory system, regenerating cells, inhibiting cancer…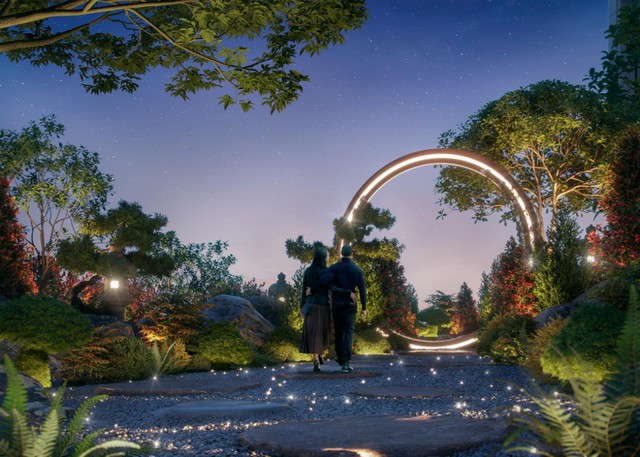 "The temperature, pH, and how the negative ion is introduced into the mineral stream and the mineral content is ensured through the process of testing and maintaining the quality of YM Tribe. Residents are still bathed with guaranteed mineral resources, sustainable with time, "the representative of the investor said.
In addition to offering a hot mineral bath, Shizen Home also offers residents an intensive, closed treatment and care, including hot mineral baths, salt stone saunas, herbs, steam, spa and detox. Wrapping around the hot mineral complex is a Japanese garden utility with bonsai trees, koi fish pond, waterfall, cherry blossom garden, mindfulness meditation garden, helping residents release pressure, balance body – mind – mind.
With unique gadgets and a first time presence in Ho Chi Minh City, Shizen Home is highly appreciated by many investors and customers when it is launched. Not only does Shizen Home provide a high-class, healthy living space with a hot mineral complex, Shizen Home is also expected to add value over time in the context of declining apartment supply and increasing demand for home ownership.
Source: Nhip song Kinh te